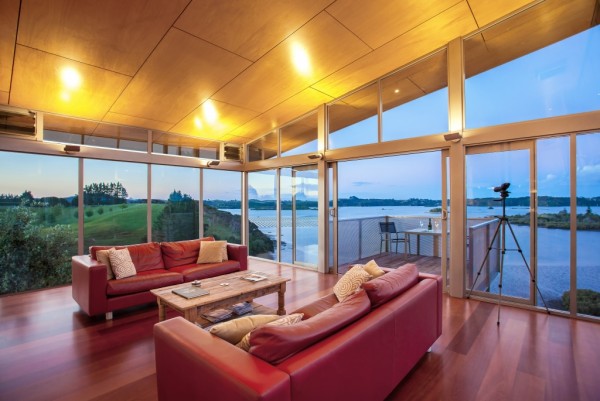 An Amazingly Beautiful Modern Waterfront House From New Zealand
If you love life on the lake, where the hardest choice of the day is whether to go kayaking on the water or take up a spot of fishing in the bay, then this amazing piece of waterfront real estate will set you dreaming. The home, designed by international award-winning architect Richard Naish, is situated on a narrow finger of land in beautiful Kerikeri, Northland New Zealand, that has the lake on one side and the sea at the other, which gives this place a real sense of peaceful seclusion.
More gorgeous views can be enjoyed from the ensuite master bedroom, that comes complete with a private balcony and a large walk-in closet, as well as its own snug that can be utilized as a study, library, or as an extra TV room. The off-shot room comes with a private balcony too, which looks out from the sea facing side of the property.